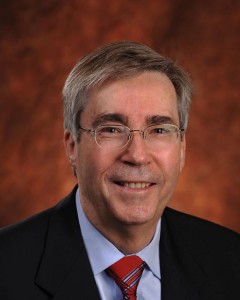 Lee McPheters
Director: J.P. Morgan Chase Economic Outlook Center, Research Professor of Economics
Dr. Lee McPheters is Research Professor of Economics in the W. P. Carey School of Business at Arizona State University and Director of the school's JPMorgan Chase Economic Outlook Center. The Center specializes in economic forecasts for Arizona and the Western states.
His writings on the Western region have been quoted in the Wall Street Journal, USA Today, The Economist, Business Week, The New York Times, and Newsweek as well as major metropolitan area newspapers throughout the nation. He has appeared nationally on Good Morning America and CNN news, commenting on the economy of the Western states.
Dr. McPheters' recent research has emphasized transportation issues in economic development, with support from the U. S. Department of Transportation, the Arizona Department of Transportation, Phoenix Sky Harbor International Airport, Boeing, and other public and corporate sources.
Dr. McPheters completed his undergraduate studies at San Francisco State University and received his Ph.D. from Virginia Tech. He has been at ASU since 1976.