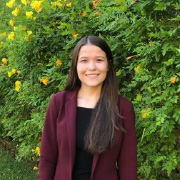 Kaitlyn Ackron
Associate Research Economist
Kaitlyn Ackron is an Associate Research Economist with Seidman.
She is currently contributing to studies commissioned by the City of Phoenix, Cactus League, and the Department of Veterans Services.
Prior to joining Seidman full-time in 2023, Ms. Ackron was a student surveyor for 3 years.
Ms. Ackron earned a Bachelor of Science in Psychology from Arizona State University in 2022. She is now pursuing a Master's degree in Organizational Leadership.