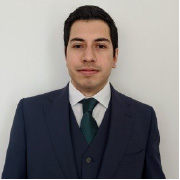 Jose Jurado Vadillo
Research Economist
Dr. Jose Jurado Vadillo is a Research Economist at the Seidman Research Institute. An experienced college instructor, Dr. Jurado joined Seidman in February 2023 from Carnegie Mellon University, where he worked as a postdoctoral research fellow.
Dr. Jurado has organized and participated in large research projects that quantified the far-reaching economic costs posed by drug-trafficking organizations and drug violence. He has also investigated the role that race plays in the decision to escalate the use of force by U.S. law enforcement.
Previously, Dr. Jurado worked as an economist at Banco de México's research division. He supported the monetary forecasting capabilities of the Central Bank, and assisted in relevant policy research.
Projects Dr. Jurado has participated in include the role of credit in the economic growth of the country, the contribution of federal subsidies to home ownership, and the drivers of money growth, among others.
He is passionate about U.S.-Mexico bilateral security issues, racial disparities in policing in the U.S., and the links between economic conditions in the U.S. and remittances from Mexican migrant workers.
Dr. Jurado earned a Ph.D. in economics from Brown University in 2021.
He has been awarded first place in the 2022 edition of the Victor L. Urquidi prize in economics for best research paper focused on Mexico.