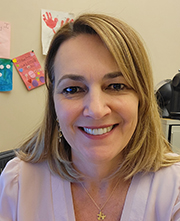 Adriana Dornelles
Research Professor
Dr. Adriana Dornelles is a Research Professor with the L. William Seidman Institute and Clinical Associate Professor at W. P. Carey School of Business, Arizona State University. 
Her current research interests focus on the relationship between the local food environment and health behaviors and outcomes. She specializes in applied regression analysis, forecasting, spatial analyses, and their applications to business and health economics.
Dr. Dornelles has extensive experience as a statistical consultant performing statistical analyses for researchers and M.Ds. in behavioral sciences, education, and medical research. She has several publications in many scientific journals, such as PLoS ONE, Journal of Hypertensive, and Journal of Ultrasound Medicine, among many others.
She also loves puzzles, kayaking, and the beach! 
Dr. Dornelles received her Master of Arts in Economics from Catholic University in Brazil and her Ph.D. in Biostatistics from Tulane University School of Public Health and Tropical Medicine in New Orleans, LA.